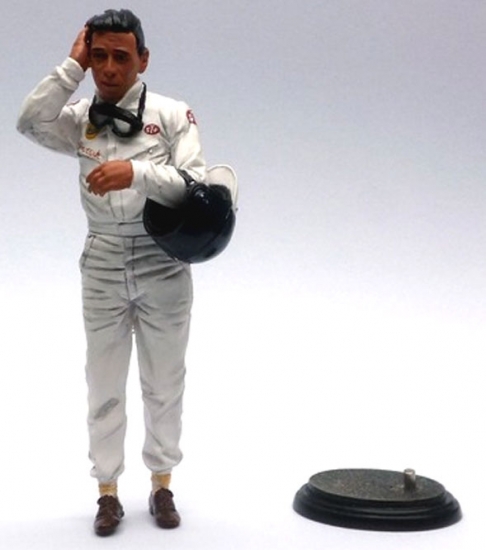 Jim Clark 1960s Figurine with helmet and goggles.
Colin Chapman, Lotus team founder noticed him and offers him his first wheel in a Formula one car in 1960. He competed with success in all kind of races and categories (Hill Climb, Formula Junior, Formula 2, Tasman Series, Formula 1, Rally, Sport and touring cars, Indianapolis and even Nascar). He participated LeMans 24 Hour three times in 1959 with Lotus, in 1960 and 1961 with Aston Martin. He won his first F1 World Champion title in 1963.
The picture that was taken as basis for the sculpture process was taken in Indianapolis in 1967. Note the little balanced but personal position of ClarkÆs feet, he runs his fingers through his hair. It is just before the start, he gets ready, goggles around the blow he wears his helmet around the arm. Size: 6"