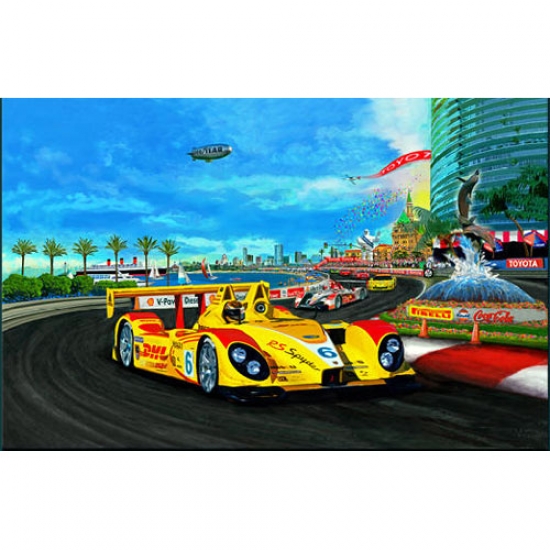 Produced by Alan Scott Greene. Alan is known for his striking use of colors. His compositions create a feeling of speed, excitement and electricity that bring his subjects to life. His creations are like Eye Candy. Deliciously colored, you just can not collect one!
Porsche, what more can you say? This manufacturer has dominated racing for over half a century. During the early years, Porsche seemed to build street cars to pay for their racing program, not the other way around. There is a true and pure love for racing in this breed and their entry into The American Le Mans series in the late 2000Æs proved to be no exception. They dominated the series in LMP2 and many times won overall. The Streets of Long Beach could not be a better place to depict the RS Spyder leading the field with Patrick Long as itÆs pilot. This very meticulous ôwerkö will surprise you with all itÆs fun detail depicting the Southern California life style. ItÆs like playing, WhereÆs Waldo.
MUSEUM QUALITY CANVAS SIZE 19öX13ö. Each print comes ready to stretch or framing.