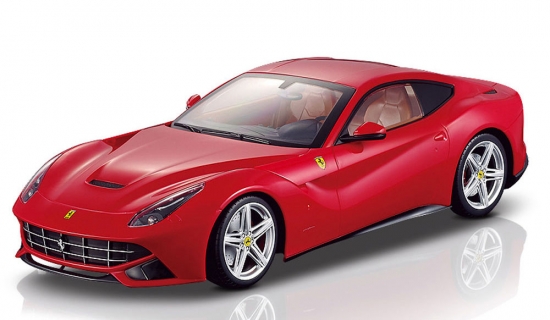 MJX Official Licensed 1:14 Ferrari F12 Berlinetta Drive the car of your dreams with this latest creation from MJX, leading manufacturer of officially licensed scale model remote control motor vehicles. The latest version of this MJX F12 Berlinetta Ferrari with excellent handling characteristics and superior quality. Each characteristic of the original vehicle has been taken over one of one.
The remote commands controls are easy therefore suitable for beginners and advanced skilled drivers. With a fully functioning hand held remote control unit, offering forward, reverse, left and right movements along with speed control, youÆre in complete control. The responsive and reliable controller ensures the handling you'd almost expect from the real deal. This Ferrari is fully assembled and includes rechargeable battery for the vehicle and remote controller batteries for immediately use. The complete chassis has been redesigned giving it a high durability.
This fully functional radio control dream car is amongst the most desirable Italian sports car. A 1:14 scale replica car, it is crafted with the same attention-to-detail as the original Ferrari F12 Berlinetta a high-gloss finish, sturdy rubber tyres, detailed engine, telescope antenna, working LED lamp lights.
Tri band switch with three frequency options. Ready to drive with no assembly required. Easy to control. Fully functional radio control unit. Control directions forwards, backwards, left and right. Working lights. Construction materials designed to withstand most common crashes. Power Supply (car): 4.8V 500mAh rechargeable battery pack. (included). Running time: about 25 minutes.