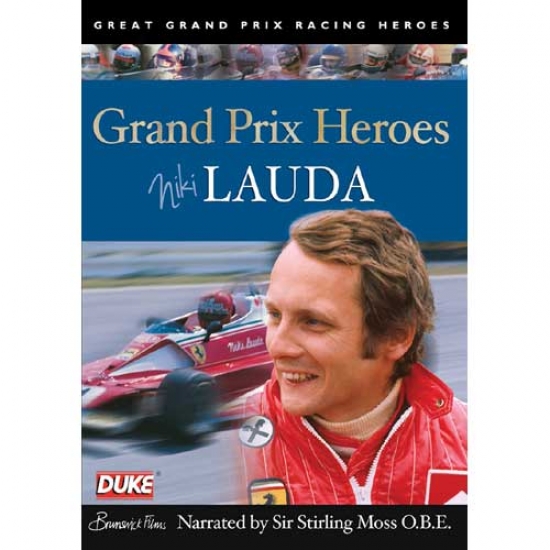 Archive race action, rarely-seen testing footage and period interviews with Lauda himself recall the highs land lows of a stunning and inspirational career, including film of his very first Grand Prix outing in his native Austria in 1971. Although results with March in 1972 and BRM the following year were disappointing, Lauda did enough to attract the attention of Ferrari, and a race seat for 1974.
With commentary by Sir Stirling Moss, we enjoy action from those early, challenging days, and LaudaÆs move to the front with the Prancing Horse û including his first Grand Prix win. ThereÆs also action from Monaco, Zolder, Anderstorp and Zandvoort as Lauda dominates the 1975 season on his way to the World Championship.
ThereÆs race footage from the dramatic 1976 season, including the fiery Nurburging crash which it was feared at the time would claim the championÆs life. However, Lauda was racing again just six weeks later, and we see his brave return at Monza, as well as the Japanese Grand Prix where Lauda, still battling with his injuries, lost the championship by a single point.
More amazing than his rapid return to action, was the speed with which he regained his world-beating form, and race action from throughout 1977 records his dominant journey to a second World Championship. His switch to Brabham for 1978 saw the first stage of his Grand Prix career fade out, although there were unforgettable moments û including the Swedish victory in the controversial BT46B æFan CarÆ!
In addition, we join Lauda for a 1976 Ferrari test session and five years later as he comes out of retirement to test for McLaren at Donington. Footage from the McLaren session provides a fascinating insight into the decisive moment which saw Lauda return to racing and, in 1984, score his third Formula One World Championship, cementing his place as a true Grand Prix Hero. Running time: 52mins.