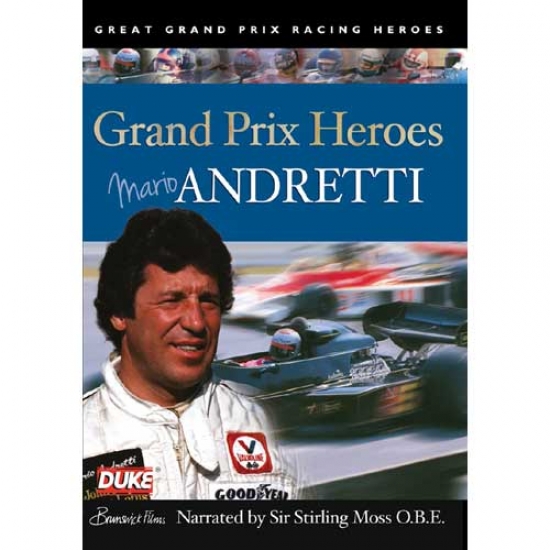 During a career spanning five decades, Mario Andretti proved himself one of the fastest, most versatile and most determined racing drivers ever. A winner in NASCAR, Indycar and sportscar, his determination to master Formula One made the American a Grand Prix Hero.
Spectacular archive footage follows AndrettiÆs Grand Prix adventure from the frustrating early days through to the glory of the World Championship. Alongside action-packed racing film, we are treated to rarely-heard interviews with Andretti, team talk from the pits and period contributions from Lotus genius Colin Chapman.
With narration by Sir Stirling Moss, we witness the early struggles with an unreliable March and the move to Ferrari in 1971 which would bring Andretti his first Grand Prix win, on his debut with the Prancing Horse. His refusal to give up on his Formula One dream despite numerous setbacks made him a hero to fans, and we recall in action footage and interviews AndrettiÆs decision to renew his World Championship assault in 1974 with the all-American VelÆs Parnelli Jones Racing team.
When the unsuccessful relationship soured, Andretti remained committed to adding the Formula One World Championship to his list of achievements, and soon found a new home with Chapman at Lotus. Stunning colour footage recalls the highlights of the Lotus years as Andretti finally had the machinery to prove himself: the Lotus 77, 78 and legendary 79, a masterpiece of engineering which would bring the team victory after victory and finally deliver Andretti the crown he had chased for a decade.
Witness the undoubted determination to win in epic race footage from such iconic circuits as Zandvoort, the Nurburgring, Kyalami, Long Beach, Jarama and Zolder, plus the fiery end to AndrettiÆs race at Monaco in 1975, his dramatic clash with James Hunt at Zandvoort and the final Formula One win of a true Grand Prix Hero. Running time: 52mins.