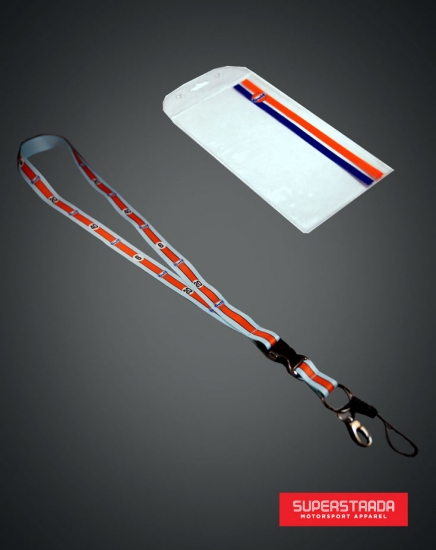 Why look like every other spectator? At your next race or event show off your Gulf pride with this premium Gulf credential with lanyard and badge holder.

This is no ordinary lanyard. In addition to the classic Gulf livery weÆve included the numbers of some of the most famous race cars from some of Gulf RacingÆs winning history. See if you can guess which cars weÆre talking about. Gun metal plated detachable hook looks good and makes it easy for you to use the lanyard for other purposes, you clever race fan. Premium gun metal claw attachment looks good and is made to last. Cell phone loop also included. This is no cheesy promo lanyard guys & gals, we did it right and upgraded everything you could possibly think of!

On the badge holder side, slip your event pass into this sharp holder adorned with Gulf logo and racing stripes. Normal attendees will bow down to your supreme coolness!