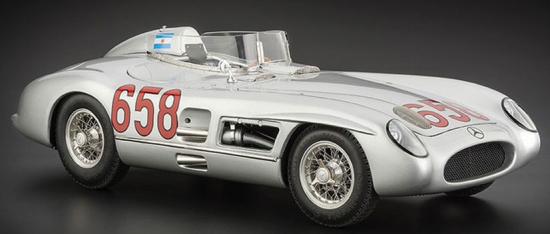 CMC Mercedes-Benz 300 SLR, #658 Fangio, Mille Miglia 1955
At 6:58 on the morning of May 1, 1955, the Mercedes-Benz 300 SLR with starting number 658 (starting number = starting time) left the launch pad in Brescia, with Juan Manuel Fangio behind its wheel to attempt the 22nd championship of the 1,600 km-long Mille Miglia.
The SLR is hand-assembled from more than 1,500 single parts. It is a precision model that incorporates thoroughly-researched historical details and authentic replication. If you don`t feel capable of filling the shoes of this legendary race driver, then picture yourself as his co-pilot.
Features:
Three-spoke steering wheel. The interior is outfitted in leather, and the seats are covered with textile fabric. The swing-up driver`s door provides ease for entry, but there is no such "luxury of convenience" for the co-pilot. Removable front and rear spare wheels in different sizes.
Spoked-wheels on aluminium rims. Each stainless-steel spoke is mounted with a single nipple. The wheels can be removed by a three-winged locking nut. Authentic replication of the cockpit air ventilation, wind shield and rear view mirror. Realistic presentation of the original dashboard with all its instruments and control elements. The headrest dome connects with the hatch. It can be flipped up as one single unit to gain access to the spare wheels.
The engine hood has a tent prop. A tank-access flap is integrated in the drivers`s headrest dome. The filler neck underneath is equipped with a removable tank cap make of stainless steel. The front-right engine hood fitted with a filigree grill for the cooler and engine air-inlet duct. Highly detailed 8-cylinder in-line-engine installed in angular position and complete with all pipes and cabeling. The sidepipes are made of stainless steel. Front wheel suspension with inside drum brakes Space-frame with tank, wheel suspension, console for the spare wheels and electric fuel pumps. Roller-Map: The ingenious innovation of Denis Jenkinson. Size: 10". Limited edition of 2,000 pcs