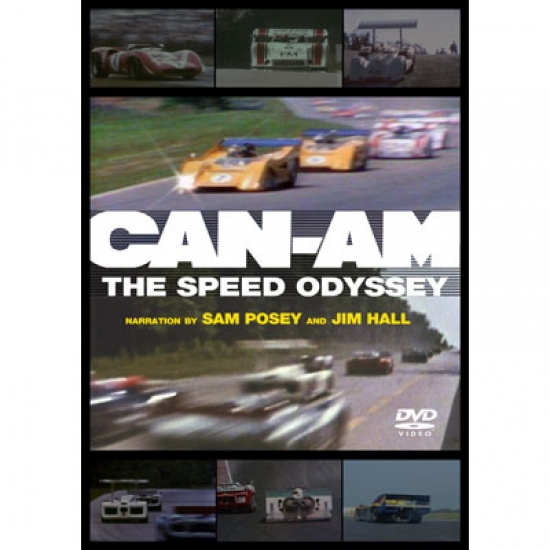 CAN-AM THE SPEED ODYSSEY
Narration by SAM POSEY and JIM HALL
A Road Racing Counterculture. An odyssey of adventure, action, speed and ground shaking sounds.
1966 -1973 Can-Am Challenge Cup Experience the wildest ride of road racing. An evocative era of fierce race competition, world renown innovation and intrigue. Heroic drivers from Formula One and around the world race the powerful GROUP 7 prototype sports cars on the daunting, beautiful road circuits of North America - Laguna Seca, Mosport Park, Road America, Bridgehampton, Road Atlanta, Watkins Glen, Riverside, St Jovite and others.
A road racing counterculture of pure evolution Conceived in the USA and ratified by the FIA in Paris, the Group 7 Can-Am rule book had virtually no technical restrictions. Faster than Formula One, Indy and Le Mans race cars.
Experience first hand the ground breaking innovations, escalading speeds and spectacle of McLaren, Hulme, Surtees, Donohue, Follmer, Hall, Revson, Stewart, Gurney, Oliver, Andretti, Amon, Posey, Scheckter and others racing the powerful Group 7 Can-Am road racing machines of McLaren, Chaparral, Porsche, Ferrari, Shadow, Lola and others.
The never seen before archive film footage includes how the Can-Am car sometimes took an unplanned airborne flight at 160 mph and Can-Am IN-CAR on-board archive film footage of Bruce McLaren and Mark Donahue. Rare 1964 to 1973 Archive Color Film The DVD Film is crafted exclusively from rare 1964 to 1973 archive COLOR film and audio. Audio is digitally re-mastered 5.1 Surround Sound. Time: 95 mins.
See a clip of the DVD now: