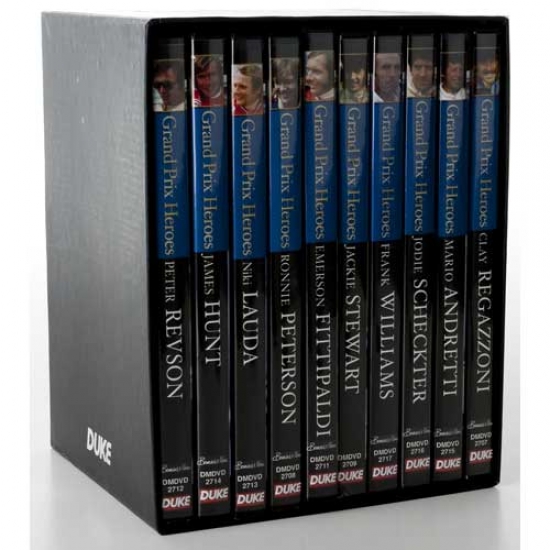 This important new series recalling some of the greatest names and characters in Formula One history is now available on a collectable box set.
DVD Grand Prix Heroes 10-DVD Box Set Made by Brunswick films, the people behind the bestselling. Grand Prix reviews of the 1970s collection, it is an authoritative and absorbing 10-part series. Commentary is by Sir Stirling Moss, of BritainÆs greatest motorsport competitors and a much-loved sporting ambassador. Each programme uses archive action footage, rarely-seen behind-the-scenes film from the era and period interviews. The aim is not to produce yet another definitive biography of each subject, but to explain why they made such an indelible mark on their sport. These are not necessarily the champions, they are characters who, decades later, are fondly remembered by enthusiasts
Focusing chiefly on the 1970s, this series ensures a fascinating mix of triumph, tragedy, personality and controversy, as well as truly thrilling archive race action n The handsome collection is presented in an embossed, durable presentation case making it perfect for collectors and gifters. The subjects of the Grand Prix Heroes box set are Clay Regazzoni, Ronnie Peterson, Jackie Stewart, Emerson Fittipaldi, Peter Revson , Niki Lauda, James Hunt, Mario Andretti, Jody Scheckter and legendary team boss Frank Williams.
Leading motorsport magazine Autosport said of the series: A fascinating insight into the lives and careers of some of the greatest F1 drivers in history. Run time: 520 mins (over 8 hrs!)