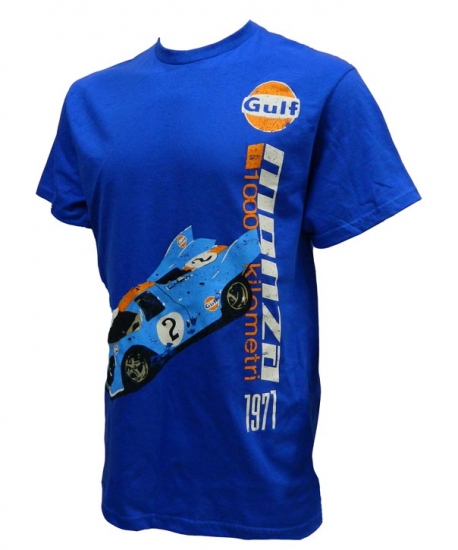 GULF HISTORIC VICTORY AT MONZA 1971
This T Shirt, featuring an action view of the Porsche 917 victory at Monza, is printed on 100% pre-shrunk, high quality, soft Cotton.
The 1971 season was dominated by the Porsche 917. The Racing Series World Championship went to Porsche with eight out of ten race victories. Porsche 917 was victorious at Monza and the Le Mans 24-Hour race with Gijs van Lennep and Dr. Helmut Marko setting a world record that still stands today. On the Mulsanne straight in Le Mans the car recorded the highest speed of 232 mph.
MANUFACTURED BY RACE CULTURE LLC. THIS SHIRT WAS DESIGNED, PRINTED WITH ECO-FRIENDLY INKS AND FINISHED IN THE USA. THE USE OF GULF OIL LOGOS AND RELATED PROPERTY RIGHTS IS LICENCED TO RACE CULTURE, LLC., BY GULF OIL LIMITED PARTNERS USA..