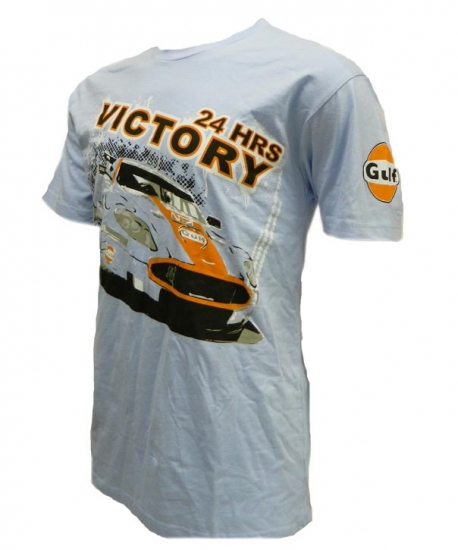 Gulf Aston Martin Wins GT1 at Le Mans 2008
GULF SPONSORED ASTON MARTIN DBR9 VICTORY. This T Shirt, featuring the Aston Martin DBR9 wearing its new Gulf colors, is printed on pre-shrunk, high quality, soft 100% Cotton.
The #009 numbered car, with the new Gulf Oil sponsored paint scheme, driven by Darren Turner, Antonio Garcia and David Brabham, won its class at the 24 hour race in Le Mans France. This car was also the GT1 class winner at the Goodwood Festival of Speed.
MANUFACTURED BY RACE CULTURE, LLC. THIS SHIRT WAS DESIGNED, PRINTED WITH ECO-FRIENDLY INKS AND FINISHED IN THE USA. THE USE OF THE GULF OIL LOGO AND RELATED TRADEMARKS AND PROPERTY RIGHTS IS LICENSED TO RACE CULTURE, LLC. BY GULF OIL LIMITED PARTNERS, USA.