Grand Prix Preview (courtesy: The FIA) - For team previews visit the
2009 F1 Team Reports
Forum
Round 12 of the 2009 FIA Formula One World Championship takes place at the Spa-Francorchamps circuit. Situated in the heart of the Ardennes forest between Liège and Brussels, the track is regarded as one of Formula One's most challenging and exciting races by drivers and fans alike. The Spa circuit is unique in that the weather can be particularly unpredictable, ranging from blazing sunshine to heavy showers in a short period of time.
The track features 19 sweeping medium and high-speed corners connected by fast straights. Of the 10 left and 9 right turns, the most challenging for drivers is the famed Eau Rouge. Approached at over 300km/h after a plunging exit out of turn two, drivers experience up to -3.5 of vertical G forces.
At 7.004km the circuit is the longest of the championship and will test every aspect of vehicle handling. Teams will have to work hard on vehicle set-up to ensure a competitive edge in the quick sections as well as the slow corners.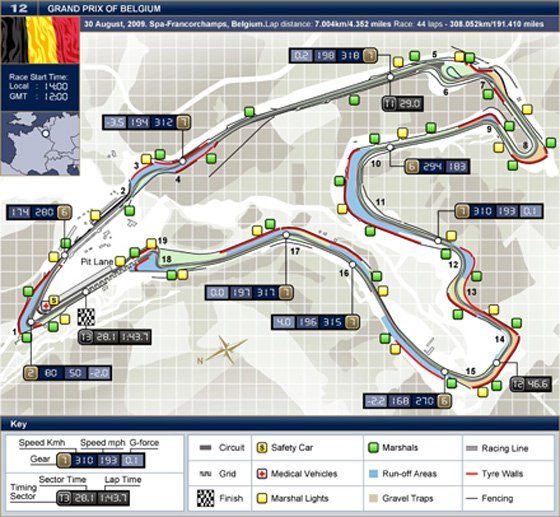 Changes to the circuit since 2008
CHANGES TO THE CIRCUIT SINCE 2008
- Higher debris fences have been installed in front of the grandstands on the right between turns 7 and 8.
- The dip in the kerb on the exit of turn 9 has been rectified.
- An extra opening has been provided for the recovery of cars around the outside of turn 11.
- The guardrail on the left on the exit of turn 15 has been moved slightly further from the track.
- The white lines on each edge of the track have been repainted using non-slip paint.
SPA-FRANCORCHAMPS CIRCUIT – INTERESTING FACTS
- At one stage in its history it rained for twenty years in a row at the Belgian Grand Prix.
- The Raidillon–Eau Rouge corner is not a natural curve. It was created in 1939 to make the circuit more exciting for spectators and drivers.
- The track features varying altitudes ranging from the lowest: Eau Rogue at 391m to the highest: Les Combes at 470m.
- Over 100 medical staff will be on standby at the event.
CIRCUIT DATA
Length of lap: 7.004km
Offset: 0.124km
Total number of race laps: 44
Total race distance: 308.052km
Speed limits in the pit lane: 60km/h during practice sessions; 100km/h during qualifying and race
Formula One time table
Friday
Practice Session 1: 10.00 – 11.30 hrs
Practice Session 2: 14.00 – 15.30 hrs
Saturday
Practice Session 3: 11.00 – 12.00 hrs
Qualifying: 14.00 – 15.00 hrs
Sunday
Race: 14.00 hrs