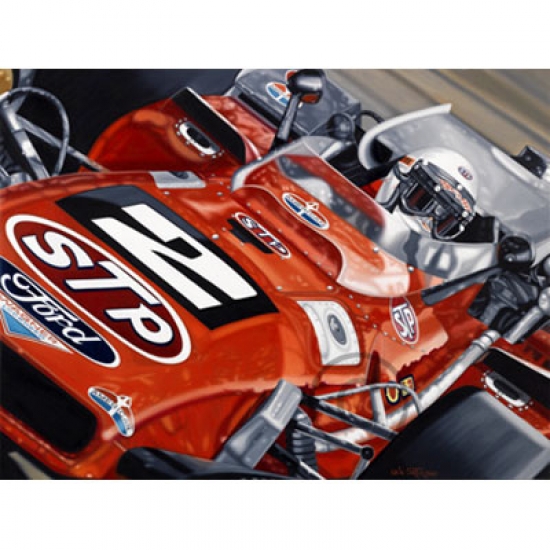 Produced by Colin Carter, produced using Colin's flair for color and an in your face impression. Printed on heavyweight, acid free art board and hand signed & numbered by Colin Carter.
Racing legend Mario Andretti was always destined to win America's greatest race, and it came on his fifth attempt, racing his back up Hawk-Ford after wrecking his Lotus-Ford in an earlier practice run. Starting at No.2, he raced like a daredevil who cares little for his safety and sailed past pole sitter A.J. Foyt on the first turn to take the lead, and held this for 116 of the 200 lap race. After his main competitors Ruby, McCluskey and Foyt were forced to drop out, and in spite of almost hitting the wall on lap 150, Mario cruised to victory, two laps ahead of Dan Gurney at an average speed of 156.867 miles per hour.
Limited to only 850 copies for sale worldwide. Each copy is signed by Mario Andretti and signed and numbered by the artist. Comes with a Certificate of Authenticity)
Sizes: Litho: 32"x26.5"