The McLaren F1 team launched their 2012 contender at the McLaren Technology Center.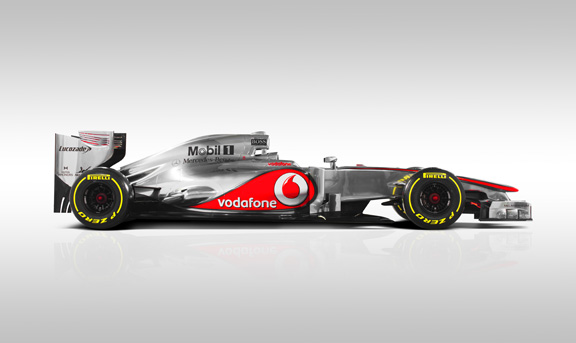 (more images below)
McLaren Press Release
MP4-27 TECHNICAL LAUNCH SHOWCASES STRENGTH IN DEPTH AT CODAFONE McLAREN MERCEDES
Woking, UK, February 1 2012
The continuation of our double world-champion driver line-up, further consolidation of our championship-winning engineering team and a subtle, yet deep-reaching technical update of our car all underpin the world-class strength, experience and ambition that exists at Vodafone McLaren Mercedes ahead of the 2012 FIA Formula 1 World Championship.
This morning's technical presentation of the MP4-27 at the McLaren Technology Centre showcased a natural evolution of last year's six-race-winning car and underlined the message that the new season is very much one of growth through strength and continuity. After finishing second in both the drivers' and constructors' championships in 2011, our aim for the new season is to fight for both world titles from the very start of this year's campaign.
Evolutionary design of MP4-27 masks overhaul of all major systems
While the all-new Vodafone McLaren Mercedes MP4-27 closely resembles last year's multiple race-winning car, the 2012 chassis has been substantially revised from the ground-up, with all major systems updated or re-designed for the new season. The most evident visual differences include more tightly waisted rear bodywork, developed to improve flow to the rear of the car, and a revised cooling system, which re-directs the gearbox oil-cooler. Last year's U-shaped sidepods have also been re-designed – a legacy of the FIA's new exhaust regulations that redefine the shape of the rear bodywork.
Best driver line-up in Formula 1 retained for third successive season
Maintaining the belief in the validity of strengthened continuity, Vodafone McLaren Mercedes is the only team in Formula 1 whose driver line-up consists of two world champions: Jenson Button and Lewis Hamilton. Between them, they have scored 22 grand prix victories for Vodafone McLaren Mercedes and are the strongest and most consistent driver line-up in the sport. Maintaining the partnership into a third successive season was merely a formality.
Strength drawn from consolidation of engineering and race teams
On the technical front, our exemplary engineering trio Tim Goss (director of engineering), Paddy Lowe (technical director) and Neil Oatley (director of design and development programmes) once more remain at the forefront of the drawing office. For 2012, they will be joined by sporting director Sam Michael, whose arrival coincides with the re-organisation of our trackside personnel roster to ensure both growth and development within the group.
Off-track: the most complete team in Formula 1
Away from the track, the team continues to develop, too: Vodafone McLaren Mercedes last year became the world's first carbon-neutral Formula 1 team, efficiently managing its carbon footprint and purchasing carbon credits to completely offset its emissions.
As well as continuing relationships of record-breaking length with partners such as Hugo Boss (31 years), TAG Heuer (27 years), Kenwood (22 years), ExxonMobil (18 years), Mercedes-Benz (18 years), Hilton (eight years) and Vodafone (six years), our new strategic partnership with GlaxoSmithKline continues to gather pace. Development and planning continue on the McLaren GSK Centre for Applied Performance, while GSK's Lucozade scientists are busy developing a groundbreaking cockpit drinks formula to hydrate our drivers during grands prix in 2012.
Finally, in a year when the world's spotlight will shine on London and the 2012 Olympics, we're proud that equipment and technology pioneered at the racetrack by Vodafone McLaren Mercedes and developed by McLaren Applied Technologies will be used by Team GB's athletes in their quest for Gold this summer.
Following a one-day private shakedown, Jenson will begin track testing of the MP4-27 at Spain's Circuito de Jerez on Tuesday February 7.
THE BEST DRIVER LINE-UP IN FORMULA 1
JENSON BUTTON (GBR)
Age: 32
Date of birth: January 19 1980
F1 highlights
Titles: 2009 world champion
GPs: 208
Wins: 12 (five for Vodafone McLaren Mercedes)
Poles: 7
FLs: 6
Points: 811
Websites:
www.jensonbutton.com
Twitter: @jensonbutton
Jenson Button joined Vodafone McLaren Mercedes as the newly crowned world champion at the end of the 2009 season and re-signed a new multi-year deal with the team last autumn.
His runner-up position in the 2011 world drivers' championship, including victories in Hungary and Japan and a career-best last-to-first final-lap win in Canada, along with nine further podium finishes, underlined his credentials as one of the most respected and complete drivers in Formula 1 history.
The 2012 season will mark his 13th season in Formula 1.
Jenson said:
"With the regulations remaining relatively stable, we've really been able to focus on the detail with this year's car. I still think we had a very fast package last year – it was very strong in certain areas – and our race pace was almost always fantastic, but we're hoping for a further step forwards in 2012. With Mercedes-Benz, I think we also had the best overall engine and KERS Hybrid package in the pitlane.
"We were also able to continuously develop throughout the year to match Red Bull – and that shows that we have the knowledge, effort and resources to sustain our efforts across the course of a whole season, which can be crucial.
"I know that the whole team is extremely proud of the MP4-27. It may look like a direct evolution of last year's car, but we've analysed every area of performance over the winter and the whole car has benefited from lots of fresh thinking and new ideas in every area. I'm really looking forward to getting behind the wheel in Spain next week.
"I know that everyone will be watching us very closely to see what progress we make during the pre-season tests, but I genuinely believe we have every reason to feel optimistic about the progress we've made and our competitiveness this year."
LEWIS HAMILTON (GBR)
Age: 27
Date of birth: January 7 1985
F1 highlights
Titles: 2008 world champion
GPs: 90
Wins: 17 (all for Vodafone McLaren Mercedes)
Poles: 19
FLs: 11
Points: 723
Websites:
www.lewishamilton.com
Twitter: @lewishamilton
Lewis Hamilton, 27, made his Formula 1 debut with Vodafone McLaren Mercedes in 2007, immediately making headlines for his supremely assured blend of speed, wisdom and sheer audacity on the racetrack.
A world champion at the age of 23 and, uniquely, a race winner in all of his five Formula 1 seasons, Lewis remains one of the fastest, most gifted and compelling drivers in F1 history.
At the end of 2011, he threw himself into a series of intense preparations ahead of the new season, training at high altitude in Colorado and at home in Switzerland.
Lewis said:
"The winter has been a great opportunity to recharge – I got away into the mountains, spent a lot of time hiking and running, improving my fitness and starting to prepare for the new year.
"It's always great to get away from everything; change the scenery. And what's great about Formula 1 is that you start each season with the baseline completely reset – everybody starts again from zero – and that always makes me so hungry.
"I've been keenly following the development of MP4-27 over the winter and I've been really encouraged by the results and the data that the engineers have been showing me. I think we already had a very strong base to build upon: Jenson and I won six races with MP4-26 last year and I think we've been able to retain all the strengths and the reliability of that design while also incorporating lots of improvements and new ideas into the new car.
"Of course, the biggest changes for 2012 are the modifications to the exhaust regulations – that will reduce the downforce and grip that we had last year, but it just puts the emphasis on the designers to try and claw some of that back in other areas.
"I get the feeling the MP4-27 is going to feel very new and exciting when we get to drive it for the first time."
MARTIN WHITMARSH
Team principal, Vodafone McLaren Mercedes
"The 2012 season will be an important one for Vodafone McLaren Mercedes: having finished second in the constructors' championship for the past two seasons, we're determined to mount a sustained, hard challenge for both world titles.
"Our engineering team continues to develop and grow: while the key names who head the department are well known – Tim Goss, Paddy Lowe and Neil Oatley – it's the strength in depth within the department that continually impresses. I'm extremely proud of our efforts to invest in and recruit young graduate engineers and to develop and school them in the ways of Formula 1.
"We have a fantastically committed team of individuals, and MP4-27 is the fruit of their labours – it's a beautiful car, and one we feel is the perfect platform from which to launch our assault on the world championship. While there are clear visual changes to this year's car, there's greater change beneath the skin, with lots of fresh thinking applied to every major system. The car is pleasingly complete.
"I don't think we want for anything from our drivers, either: in Jenson and Lewis, I believe we have the very best line-up in Formula 1 – the perfect blend of experience, speed and aggression. They complement each other perfectly.
"For 2012, we are well aware that Red Bull remains a very powerful and capable operation, and that both Ferrari and Mercedes AMG are ramping up their operational capacity. We have no room to be complacent – what you see today only scratches the surface of what we're planning to deliver to the track both from an engineering and operational point of view throughout 2012.
"I'm pleased and confident that we've left no stone unturned in our quest for performance. Now, our focus invariably turns to the track as we evaluate MP4-27 ahead of the start of the 2012 season in Melbourne on March 18. These will be a fascinating three weeks."
TECHNICAL Q&A
Q&A with technical director Paddy Lowe and director of engineering Tim Goss
After a successful 2011 season, what were your main aims with the development of the MP4-27?
Paddy: "Our main objectives for the 2012 season were to optimise downforce despite the changes to the blown floor, and to improve our understanding and utilisation of the Pirelli tyres, which were new to us last year.
Tim: "Although you can't see it, there's a lot on this car that's changed. However, this year has seen more of an evolutionary set of rules, so there's less of the unpredictability that comes from balancing resources between seasons during a time of greater regulatory change."
Paddy: "Every year, we sit down and want to design a race-winning car. We didn't have the quickest car at the start of last season, but we're doing everything possible to build the quickest car possible."
What are the key visual differences between the 2011 and 2012 cars?
Tim: "I think the most obvious change is the loss of the U-shaped sidepod, which we pioneered on last year's car. We reverted to a more conventional sidepod shape for this season because the U-shape was less suited to the new exhaust geometry restrictions. For 2012, the exhaust tailpipes now have to exit along the U-channel – so that particular feature was no longer really viable due to the new geometry restrictions. As a result, we decided to adopt a different approach to the way we feed the rear of the car. We have cleaned up the roll-hoop area and now have much tighter rear bodywork."
Were there any particular challenges in adapting to the new 2012 regulations?
Tim: "The regulations around the exhausts are very prescriptive: the exhausts must now exit within a very tight space at the rear of the car in order to minimise their aerodynamic influence. The final 100mm of the exhausts must be cylindrical – so they can no longer be oval, or flattened – and must be sited at a particular vertical and horizontal angle – between 10 and 30 degrees upwards. That's to direct the exhaust exit away from the floor."
Paddy: "One of the more satisfying challenges was being able to develop and expand our knowledge of the Pirelli tyres. It's our second season with Pirelli – 2011 was very much a learning year. We have used our experience from the past 12 months to design the car's layout, aerodynamics and vehicle dynamics around improved tyre utilisation."
Have there been knock-on effects to the design of the car due to the exhaust restrictions?
Tim: "They have the inevitable impact on the flow-fields around the rear of the car, yes. In previous years, the exhausts exited directly into the rear corner of the floor; we can't do that any more so, as you'd expect, that changes the flow characteristics at the rear of the car. The knock-on effect is that all of the aerodynamic devices at the rear of the car have had to be re-designed."
There have been a few departures from the technical team over the winter – are you comfortable with that?
Paddy: "I always say this, but Vodafone McLaren Mercedes is an extremely broad organisation. Bear in mind that we have 200 engineers working here – and, if those people all stayed in their job for 10 years, then we'd lose 20 engineers a year.
"Actually, we lose far fewer than that. It's easy to focus on those leaving, but we have just as many people arriving here. Also, we pride ourselves on bringing on new, young and clever guys, helping them get into the business. Inevitably, at some point, a few of those feel the need to fly the nest and join the competition – it's not something you can avoid. But we've got a very strong group of fantastically committed individuals here and we're proud of the work we've all done on MP4-27."
MP4-27 technical specification
Chassis
Monocoque: McLaren-moulded carbonfibre composite incorporating front and side impact structures
Front suspension: Inboard torsion bar/damper system operated by pushrod and bell crank with a double wishbone arrangement
Rear suspension: Inboard torsion bar/damper system operated by pullrod and bell crank with a double wishbone arrangement
Electronics: McLaren Electronic Systems. Including chassis control, engine control, data acquisition, dashboard, alternator, sensors, data analysis and telemetry.
Bodywork: Carbon-fibre composite. Separate engine cover, sidepods and floor. Structural nose with integral front wing. Driver-operated drag reduction system
Tyres: Pirelli P Zero
Radio: Kenwood
Race wheels: Enkei
Brake callipers: Akebono
Master cylinders: Akebono
Batteries: GS Yuasa Corporation
Steering: McLaren power-assisted
Instruments: McLaren Electronic Systems
Paint solutions: AkzoNobel Car Refinishes using Sikkens products
Engine
Type: Mercedes-Benz FO 108Z
Capacity: 2.4 litres
Cylinders: 8
Maximum rpm: 18,000
Bank angle: 90°
Piston bore maximum: 98mm
Number of valves: 32
Fuel: ExxonMobil High Performance Unleaded (5.75% bio fuel)
Spark plugs: NGK racing spark plugs specially designed for Formula 1
Lubricants: Mobil 1 – combining greater performance, protection and cooling with increased economy and lower emissions
Weight: 95kg (minimum FIA regulation weight)
KERS Hybrid
Type: Mercedes-Benz
e-Motor: Engine-mounted electrical motor/generator
ESS: Integrated energy storage cells and power electronics
Power: 60 kW
Transmission
Gearbox: McLaren-moulded carbon-fibre composite Integral rear impact structure
Gears: Seven forward and one reverse
Gear selection: McLaren seamless shift, hand-operated
Clutch: Carbon/carbon, hand-operated
Lubricants: Mobil