This is the place to discuss everything related to the eleventh round of the 2010 season taking place at Hockenheim between the 23rd and the 25th of July.
To submit your 10 'n' Pole Picks for Germany
click here
, to register in the competition
click here
Track Layout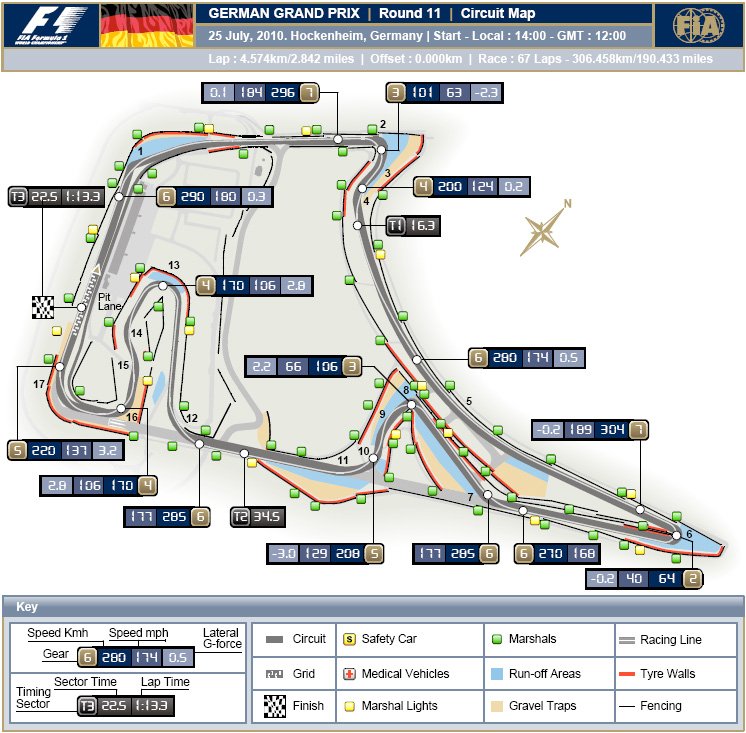 German GP - Preview (Courtesy: FIA)
As the FIA Formula One World Championship returns to the Hockenheim circuit for the first time since 2008, the battle for the drivers' and constructors' championships remains intense. With nine races to go, the four leading drivers are separated by only 24 points, while in the team chase McLaren leads Red Bull Racing by 278 points to 249.
The Hockenheimring, located 20 kilometres from the historic city of Heidelberg, first hosted the German Grand Prix in 1970 and this year will do so for the 32nd time. In its original guise, the circuit was a 6.8 km high-speed loop through surrounding forests and only an infield 'stadium section' slowed the cars to allow fans a close-up view. With the circuit in this configuration, Juan Pablo Montoya, driving a Williams BMW, set a pole position lap average of 250.4 km/h in qualifying for the 2001 German Grand Prix. The circuit was heavily revised for 2002, cutting its length to 4.6 km and reducing average lap times to around 220 km/h.
Throughout the 1990s and 2000s Hockenheim became noted as a hot-bed of support for Michael Schumacher and huge crowds are expected again this year for the return of the seven-time champion, with Mercedes. Schumacher is one of six German drivers to be racing 'at home', alongside Sebastian Vettel (Red Bull); Nico Rosberg (Mercedes); Adrian Sutil (Force India); Nico Hülkenberg (Williams) and Timo Glock (Virgin).
CHANGES TO THE CIRCUIT SINCE 2008
- The kerb and artificial grass have been extended on the exit of turn 12.
- The exit of turn 17 features an 80cm wide kerb which has been extended to the end of the existing concrete/grasscrete area. Artificial grass has been laid behind it.
- A two-row tyre barrier with a conveyor belt has been installed on the right after turn 12.
- An additional conveyor belt has been fitted after two rows on all six row barriers.
FAST FACTS: GERMAN GRAND PRIX
- German drivers have won a total of 110 grands prix, and of those Michael Schumacher has won 91 to date. The other German grand prix winners are: Sebastian Vettel (7); Ralf Schumacher (6); Heinz-Harald Frentzen (3); Wolfgang von Trips (2) and Jochen Mass (1).
- Michael Schumacher remains the only German driver to have won the FIA Formula One World Championship. He took his first titles in 1994-95 with Benetton, and from 2000-2004 won five consecutive drivers' world championships with Ferrari.
- Only three circuits have hosted the German Grand Prix: Hockenheim (31), the Nürburgring (24) and a sole event at Berlin's Avus circuit in 1959, which was won from pole and with fastest lap by Tony Brooks, in a Ferrari.
- Ernst Christ, a one-time assistant timekeeper, is credited with the idea of building a racing circuit in his home town, Hockenheim. With support from the town's mayor, Philipp Klein, and the local council, the first motorbike race was held at the circuit then known as the Kurpfalzring on May 25, 1932.
- A major layout revision in 1938 created the fast Hockenheim loop that would remain fundamentally unchanged until the end of 2001. A €62m rebuild in time for the 2002 race gave the circuit its current form and increased spectator capacity from 83,000 to 120,000.
CIRCUIT DATA
Length of lap: 4.574km
Lap record: 1:13.780 - (Kimi Räikkönen, 2004, McLaren Mercedes)
Start line/finish line offset: 0.000km
Total number of race laps: 67
Total race distance: 306.458km
Pitlane speed limits: 60km/h during practice sessions; 100km/h during qualifying and race
The event timetable for the German Grand Prix.
Friday
1st Practice 10:00 local time - 08:00 GMT
2nd Practice 14:00 local time - 12:00 GMT
Saturday
Practice 11:00 local time - 9:00 GMT
Qualifying 14:00 local time - 12:00 GMT
Sunday
Race 14:00 local time - 12:00 GMT
For the latest Formula 1 News check out the
F1 news page