This is the place to discuss everything related to the tenth round of the 2010 season taking place at Silverstone between the 9th and the 11th of July.
To submit your 10 'n' Pole Picks for Britain
click here
, to register in the competition
click here
Track Layout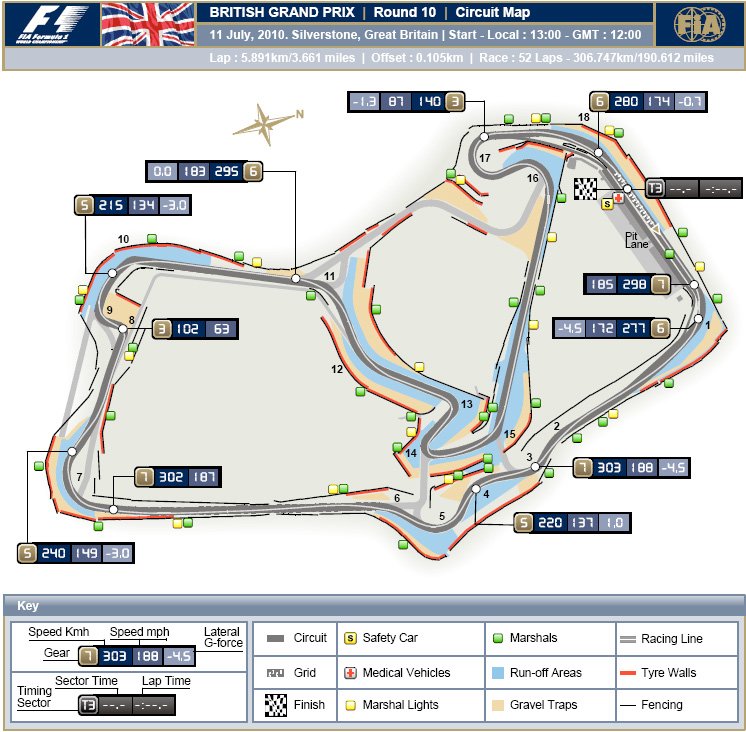 British GP - Preview (Courtesy: FIA)
At the mid-way point of the 2010 FIA Formula One World Championship, round 10, teams and drivers will encounter a heavily revised Silverstone circuit. Significant changes have been made to the track this year, aimed at improving the spectator experience, while keeping facilities at this historic venue – which hosted the inaugural round of the Formula One World Championship on May 13, 1950 – in line with those at newer locations.
The new layout is approximately 800 metres longer than the 2009 version and the most extensive revisions have been made between Club corner and Brooklands. Lap times are expected to be around four seconds slower than last year (fastest race lap, Sebastian Vettel, Red Bull Racing, 1:20.735) but the circuit redesign is intended to increase overtaking opportunities without removing its high-speed character. Silverstone has traditionally been one of the fastest Formula One tracks and in recent years has emerged as a favourite with drivers, thanks to its numerous fast sweeping curves, such as the Maggotts/Becketts complex.
Simulations of the new layout have indicated it will require higher levels of downforce to optimise braking and traction through the new infield section, particularly around the new Village corner. The drivers' championship, meanwhile, remains extremely close, with only 29 points across the top five and with four of those drivers having won two races each.
CHANGES TO THE CIRCUIT SINCE 2009
- The circuit has been completely re-aligned between the former turns 9 and 16.
- Additional asphalt run-off areas have been added at turns 3, 10,11,12,13,14,15,16 and 18.
- A supplementary run-off area has been provided on the exit of turn 18.
- A two metre wide strip of artificial grass has been laid behind the kerbs on the exit of turns 7, 13, 15, 16 and 17.
- Higher kerb elements have been laid on the apex of turns 2, 3, 8,9,13 and 14.
FAST FACTS: BRITISH GRAND PRIX
- Twelve British drivers have won the British GP: Stirling Moss (1955, Mercedes; 1957, Vanwall); Tony Brooks (1957, Vanwall); Peter Collins (1958, Ferrari); Jim Clark (1962-5, 1967, all Lotus); Jackie Stewart (1969, Matra; 1971, Tyrrell); James Hunt (1977, McLaren); John Watson (1981, McLaren); Nigel Mansell (1986-7, 1991-2, all Williams); Damon Hill (1994, Williams); Johnny Herbert (1995, Benetton); David Coulthard (1999, 2000, McLaren); Lewis Hamilton (2008, McLaren).
- The British Grand Prix is the only event to have been a part of every FIA Formula One World Championship. Only three circuits have hosted the event: Silverstone (43 races); Brands Hatch (12 races) and Aintree (5 races). This year's race will mark the 60th anniversary of the start of the FIA Formula One World Championship…
- ... but the first grand prix at Silverstone was in 1948: the RAC International Grand Prix, on October 2, won for Maserati by Luigi Villoresi.
- Along with the Monaco, Belgian and Italian Grands Prix, the British GP is one of only four events remaining from the original 1950 world championship. Silverstone, in fact, hosted the first ever round of the FIA Formula One World Championship on May 13, 1950.
- Silverstone is the home or 'local' race for six Formula One teams – Force India, McLaren, Mercedes, Red Bull Racing, Renault and Williams – all of which have factories in the UK
CIRCUIT DATA
Length of lap: 5.891km
Lap record: 1:18.739 (M Schumacher, 2004, Ferrari)
Start line/finish line offset: 0.105km
Total number of race laps: 52
Total race distance: 306.747km
Pitlane speed limits: 60km/h during practice sessions; 100km/h during qualifying and race
The event timetable for the British Grand Prix.
Friday
1st Practice 10:00 local time - 09:00 GMT
2nd Practice 14:00 local time - 13:00 GMT
Saturday
Practice 10:00 local time - 9:00 GMT
Qualifying 13:00 local time - 12:00 GMT
Sunday
Race 13:00 local time - 12:00 GMT
For the latest Formula 1 News check out the
F1 news page