Grand Prix Preview (courtesy: The FIA) - For team previews visit the
2009 F1 Team Reports
Forum
Round 15 of the 2009 FIA Formula One World Championship returns to the Suzuka Circuit, Japan, having been held at the Fuji Circuit in 2007 and 2008. Located on the southeast coast of the island of Honshu, Suzuka is a favourite circuit amongst drivers.
Designed by Dutch designer John Hugenholtz, the long and varied circuit combines several high-speed corners and a tight hair pin. It comprises 18 turns, eight left and 10 right, which are laid out on a figure of eight track. The Suzuka Circuit is renowned for corners such as the 130R and the Dunlop Curve which test tyre performance, traction and grip levels.
The track is also renowned for its "esses", a series of high-speed corners, which demand precision in order to achieve fluidity and good lap times. Good vehicle aero efficiency and car stability will be necessary for drivers to be able to change direction with precision. The circuit has a reputation for close racing and engine power and good braking will be key elements for teams to consider in preparation for the race.
SUZUKA CIRCUIT– GRAPHICS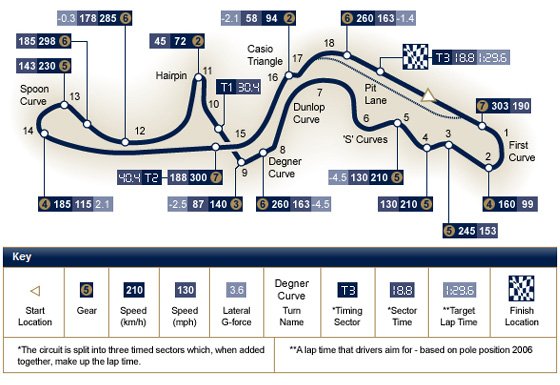 CHANGES TO THE CIRCUIT SINCE 2006
- The pit exit has been realigned to join the track after the first corner.
- Asphalt has been laid in parts of the run-off area around the outside of turns 1 and 2.
- The track has been resurfaced between turns 17 and 7.
- The barrier on the driver's right before turn 1 has been moved further from the track.
- The barrier on the driver's right between turns 6 and 7 has been moved some six metres further from the track.
- The tyre barrier around the outside of turn 1 has had an additional conveyor belt inserted behind the first two rows.
SUZUKA CIRCUIT – INTERESTING FACTS
There have been several modifications and improvements to the Suzuka Circuit since the last race in 2006 including:
- modification and expansion of the grandstand, improvement of the stand areas,
- construction of the pit building and team offices, expansion and enlargement of the paddock, enlargement of the run-off areas and a reworking of the track surface.
- A lap of the track begins with a fast 7th gear bend that tightens to lead into a series of fast S-bends.
- The track is famous for its Spoon Curve, the 130R, Casio Triangle and Chicane bends.
- The track is situated in the middle of Suzuka Land, a leisure park built in 1962.
- The circuit features a Traffic Education Centre specialising in traffic training and education to assist and encourage the public to become safer and better drivers.
CIRCUIT DATA
Length of lap: 5.807km
Offset:0.300km
Total number of race laps: 53
Total race distance: 307.471km
Speed limits in the pit lane: 60km/h during practice sessions;
100km/h during qualifying and race
FORMULA ONE TIME TABLE
Friday
Practice Session 1: 10.00 - 11.30 hrs
Practice Session 2:14.00 - 15.30 hrs
Saturday
Practice Session 3: 11.00 - 12.00 hrs
Qualifying: 14.00 - 15.00 hrs
Sunday
Race: 14.00 hrs