Grand Prix Preview (courtesy: The FIA) - For team previews visit the
2009 F1 Team Reports
Forum
Round 11 of the 2009 FIA Formula One World Championship takes place at the Spanish port city of Valencia. The Valencia Street Circuit is located on Spain's eastern sea board, in the city's former industrial port. This season's second visit to Spain will see drivers race around a 25-corner track which winds around the Juan Carlos I Marina.
The circuit utilises the roads around the city's port area, including a section over a 140 metre long swing bridge. It also features some roads designed exclusively for racing purposes by the German architect Herman Tilke, who designed the infrastructural buildings for the circuit.
The track is 5.419 kilometres long and incorporates 13 right-hand turns and 12 left-hand turns. The track's top speed is approx. 315 km/h and will demand a low downforce set-up in order for cars to optimise the high-speed lap. Numerous braking occasions on the track will escalate the cars' brake wear. The coastal location of the circuit and potential sea breezes will require drivers to be wary of balance issues which could arise and cause a lack of grip.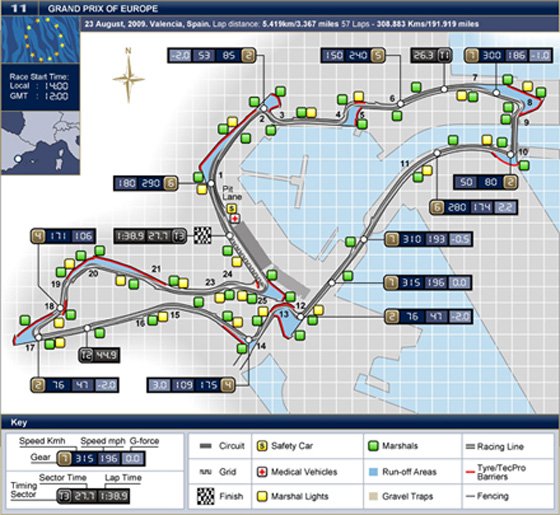 Changes to the circuit since 2008
- The pit exit has been reworked to bring it to the same level as the track; the wall separating the two has been removed.
- The walls on the apex of turns 3, 9, 10 and 14 have been moved further from the track.
- The kerbs on the apex of turns 4 and 5 have been extended.
- The wall on the left on the exit of turn 5 has been moved back by approximately three metres.
- The openings on the apex of turns 7 and 11 have been closed and additional openings provided on the opposite sides of the track.
- Artificial grass has been installed behind the kerbs on the exit of turns 10 and 14.
- The inner pit lane has been sealed using a high-grip resin.
Valencia Circuit - Interesting Facts
- Although dubbed as a street circuit, Valencia has 14-metre wide roads with spacious run-off areas.
- Over the course of a lap the drivers will take in several famous sights in the city, including the quayside, the historic fish market area, the shipyard gates, the suburb of Grao and the Avenida de Francia whereas the pits and team garages are located in former port stalls.
- The circuit has been constructed with over 2,875 protective barriers weighing about 4 tonnes each.
Circuit Data
Length of lap: 5.419km
Offset: 0.000km
Total number of race laps: 57
Total race distance: 308.883km
Speed limits in the pit lane: 60km/h during practice sessions;
100km/h during qualifying and race
Formula One time table
Friday
Practice Session 1: 10.00 – 11.30 hrs
Practice Session 2: 14.00 – 15.30 hrs
Saturday
Practice Session 3: 11.00 – 12.00 hrs
Qualifying: 14.00 – 15.00 hrs
Sunday
Race: 14.00 hrs