Grand Prix Preview (courtesy: The FIA) - For team previews visit the
2009 F1 Team Reports
Forum
Round 10 of the 2009 FIA Formula One World Championship takes place at the Hungaroring circuit in Mogyoród, 18 km north of Budapest. The circuit has hosted Formula One every year since 1986. The track is generally dusty given that it is built on sandy soil and this, combined with the mid-summer heat and the bumpy track surface, makes it a challenging event for drivers and their cars.
With the tight nature of the 14-corner circuit, Turn One at the end of the main straight provides the best opportunity for drivers to gain places. This corner was extensively re-profiled in 2003 to create a sharper hairpin that would increase overtaking opportunities.
The circuit is always well-attended and has become a popular mid-August venue, especially with F1 fans from neighbouring countries. It is not uncommon for thousands of Germans, Austrians and Italians to travel to the city to join the many race fans from across Eastern Europe.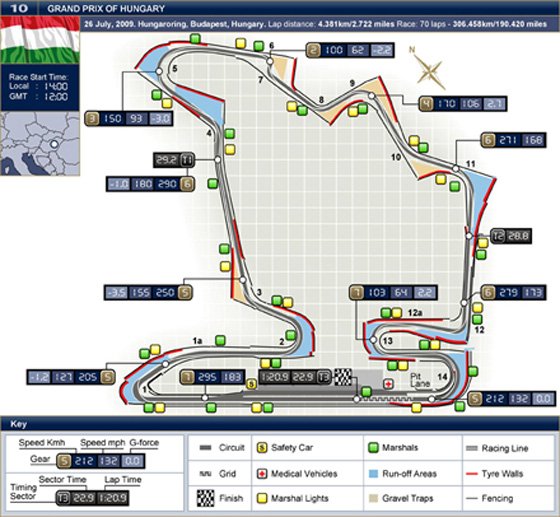 CHANGES TO THE CIRCUIT SINCE 2008
- Additional conveyor belts have been added to the tyres in turns 5, 8 and 9.
- A debris fence has been installed on the wall on the right after turn 14.
HUNGARORING CIRCUIT – INTERESTING FACTS
- The event will feature the participation of over 100 track marshals, 160 fire and emergency crew, 88 medical staff, 30 rescue staff and 66 crane crew.
- Most of the circuit's outside curves feature artificial grass which will force drivers to stay within the boundaries of the track.
Circuit data
Length of lap: 4.381km
Offset: 0.040km
Total number of race laps: 70
Total race distance: 306.630km
Speed limits in the pit lane: 60km/h during practice sessions; 100km/h during qualifying and race
Formula One time table
Friday
Practice Session 1: 10.00 – 11.30 hrs
Practice Session 2: 14.00 – 15.30 hrs
Saturday
Practice Session 3: 11.00 – 12.00 hrs
Qualifying: 14.00 – 15.00 hrs
Sunday
Race: 14.00 hrs