Grand Prix Preview (courtesy: The FIA) - For team previews visit the
2009 F1 Team Reports
Forum
Round eight of the 2009 FIA Formula One World Championship takes place at the Silverstone Circuit which is close to the majority of the teams' headquarters. Half the circuit is located in Northamptonshire and the other half in Buckinghamshire. The circuit is constructed on the site of a former World War II airfield, RAF Silverstone, and its three triangle format runways lie within the outline of the present track. Host to the Silverstone Classic, the British round of the FIA International GT Championship and several premier British Championships including British Touring Cars and British Superbikes the circuit remains popular among motor sport fans in Britain and worldwide.
Silverstone is one of the fastest races on the calendar and the flat circuit is made up of a series of long straights connected by fast open corners making for a physically demanding challenge for the drivers. Copse is the fastest corner around Silverstone with Formula One cars taking the bend at speeds of up to 285 km/h. The circuit can be reasonably tough on engines and drivers spend around 68 per cent of the lap at full throttle.
SILVERSTONE – CIRCUIT GRAPHICS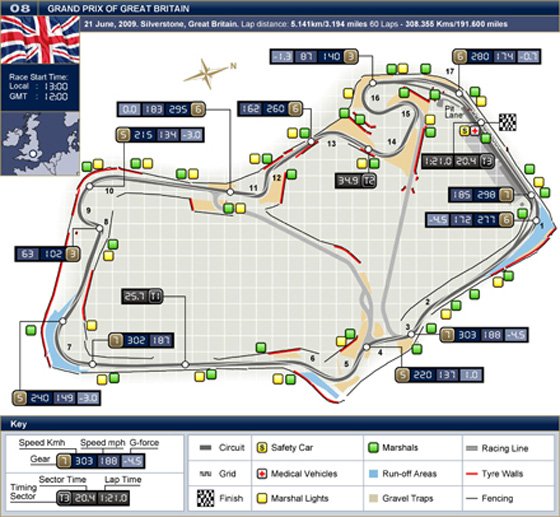 CHANGES TO THE CIRCUIT SINCE 2008
• The guardrail on the driver's right between turns 10 and 11 has been realigned.
SILVERSTONE CIRCUIT – INTERESTING FACTS
• Over 600 highly trained volunteer track side marshals will be on duty at the event. This includes 290 fire and course marshals, 75 flag marshals, 50 observers and 30 incident officers.
• Throughout the Grand Prix, a team of 100 medical staff, including 40 doctors, will be on site to deal with any medical problems among the competitors or visitors.
• 24,000 litres of paint were used in preparation for the event.
Circuit data
Length of lap: 5.141km
Offset: 0.105km
Total number of race laps: 60
Total race distance: 308.355km
Speed limits in the pit lane: 60km/h during free practice sessions; 100km/h during qualifying and the race
Formula One time table
Friday
Practice Session 1: 10.00 – 11.30 hrs
Practice Session 2: 14.00 – 15.30 hrs
Saturday
Practice Session 3: 10.00 – 11.00 hrs
Qualifying: 13.00 – 14.00 hrs
Sunday
Race: 13.00 hrs