Grand Prix Preview (courtesy: The FIA) - For team previews visit the
2009 F1 Team Reports
Forum
The seventh event of the Formula One calendar takes place at the Istanbul Park Circuit. The purpose built track was designed by German architect Herman Tilke and is located on the Asian side of Istanbul approximately 90 kilometres from the city centre. Constructed in 2005, one of the circuit's unusual features is that the racing cars run in an anti-clockwise direction around the circuit.
Istanbul Park Circuit follows the natural contours of the land and features various dips and falls. It is composed of 14 curves, six of which are right turns while the remaining eight are left turns. The circuit runs over four level sections with rising and descending grades. The left-handed triple apex turn eight always tests competitors' abilities. Taken at around 250kph this turn can generate some of the highest G-forces seen on any circuit. With track speeds reaching up to 321kph and temperatures reaching up to 55 degrees Celsius, the Istanbul Park Circuit is challenging for both drivers and teams and provides spectators with much excitement.
ISTANBUL – CIRCUIT GRAPHICS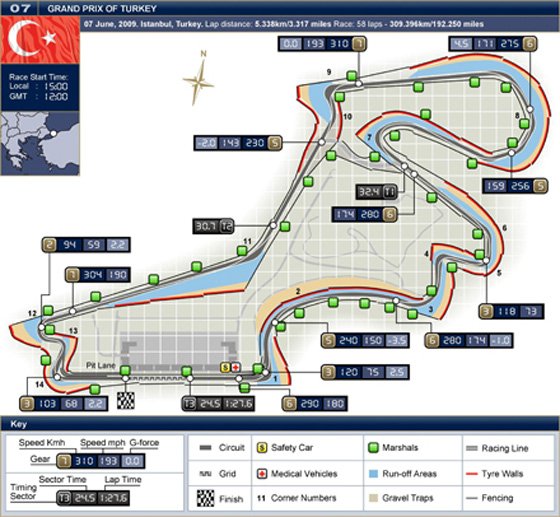 CHANGES TO THE CIRCUIT SINCE 2008
- The back of the apex kerbs at turns 9 and 12 have been graded to prevent a car from launching.
- Speed bumps, similar to turn 2 in Barcelona, have been installed behind the apex of turn 10.
- Additional conveyor belts have been added mid way through tyre barriers at turns 1, 7, 9 and 12.
ISTANBUL PARK CIRCUIT – INTERESTING FACTS
- The maximum vertical slope is 8.145 per cent.
- Over 124,000 rubber barriers are used for security on the circuit.
Circuit data
Length of lap: 5.338km
Offset: 0.208km
Total number of race laps: 58
Total race distance: 309.396km
Speed limits in the pit lane: 60km/h during practice sessions; 100km/h during race
Formula One time table
Friday
Practice Session 1: 10.00 – 11.30 hrs
Practice Session 2: 14.00 – 15.30 hrs
Saturday
Practice Session 3: 11.00 – 12.00 hrs
Qualifying: 14.00 – 15.00 hrs
Sunday
Race: 15.00 hrs