Grand Prix Preview (courtesy: The FIA) - For team previews visit the
2009 F1 Team Reports
Forum
The fifth event of the Formula One calendar, which is also the start of the European season, takes place at the Circuit de Catalunya in Barcelona, Spain. The 4.655 kilometre track is located in Montmeló, to the north of Barcelona and is a favourite for test drivers. The circuit's location leaves it exposed to variable winds, making effective car settings crucial to any team hoping for victory.
The track has few slow corners and the sweeping bends are made all the more difficult by the challenging gradients as the circuit runs up and down the hillside overlooking the massive pit and paddock complex. It is one of the more challenging circuits on the calendar from a technical standpoint and it is certain to provide an exciting Grand Prix for spectators and competitors alike.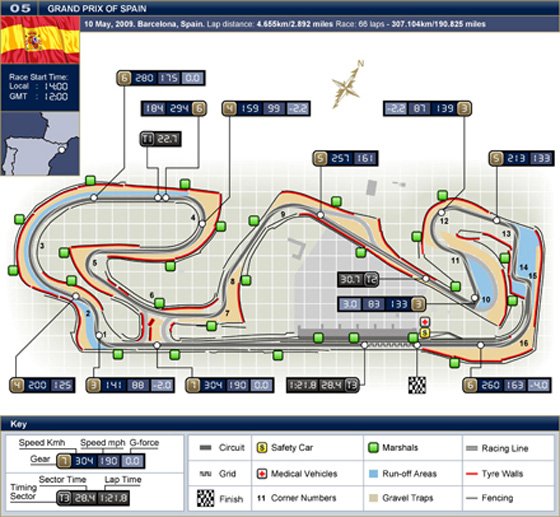 CHANGES TO THE CIRCUIT SINCE 2008
• A large section of the gravel at turn 3 has been replaced by asphalt.
• New kerbs with better drainage behind them have been installed on the apex of turns 5, 11 and 15.
• The rear of the gravel trap at turn 9 has been raised by 1.5m to give it a gradual upward incline, the gravel itself has also been renewed.
• The kerb and the artificial grass behind it on the exit of turn 9 have been extended by 10 metres.
• An additional conveyor belt has been fitted after two rows of tyres in the five and six row sections straight on at turns 1, 9 and 10.
CIRCUIT DE CATALUNYA – INTERESTING FACTS
• Improvements have been made to the circuit with regards to safety. A total of 440m of conveyor belts along with 1,150m of water collection channels were connected and a total of 360km of kerbs renewed. The total length of the new tyre barriers is 3980m which includes 19,000 tyres.
Circuit data
Length of lap: 4.655km
Offset: 0.126km
Total number of race laps: 66
Total race distance: 307.104km
Speed limits in the pit lane: 60km/h during practice sessions; 100km/h during race
Formula One time table
Friday
Practice Session 1: 10.00 – 11.30 hrs
Practice Session 2: 14.00 – 15.30 hrs
Saturday
Practice Session 3: 11.00 – 12.00 hrs
Qualifying: 14.00 – 15.00 hrs
Sunday
Race: 14.00 hrs