Grand Prix Preview (courtesy: The FIA) - For team previews visit the
2009 F1 Team Reports
Forum
The fourth event of the 2009 Formula One season will take place in Bahrain. Located south of the capital Manama and designed by German architect Hermann Tilke the Bahrain International Circuit (BIC) covers an area of 170 hectares. It has five circuit variants, the longest being the Grand Prix course at 5,412km.
The circuit, which is located in the middle of the desert, offers drivers challenges they have not yet faced this season. Due to its unusual location the possibility of sand being blown onto the track is very real. Sand will minimise grip on the track and will see drivers putting engines through their paces. This year, the Bahrain International Circuit announced its partnership with the United Nations Environment Programme which will see the circuit take on environmental initiatives as part of its "BIC Go Green" campaign. In 2007 it was named an 'FIA Institute Centre of Excellence' in recognition of its excellent safety, race marshalling, medical facilities and high technology standards.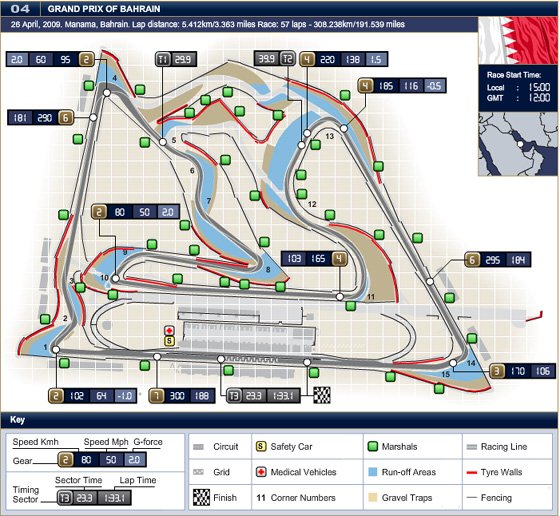 CHANGES TO THE CIRCUIT SINCE 2008
• There are no changes to the circuit since last year.
BAHRAIN INTERNATIONAL CIRCUIT – INTERESTING FACTS
• Welsh granite was chosen along with over 12,000 tonnes of stone for the construction of the track.
• Drivers don't spray the traditional champagne on the podium upon winning. Although alcoholic beverages are legal in Bahrain the drivers spray a non-alcoholic rose water drink known as Waard instead.
Circuit data
Length of lap: 5.412km
Offset: 0.246km
Total number of race laps: 57
Total race distance: 308.238km
Speed limits in the pit lane: 60km/h during practice sessions; 100km/h during race
Formula One time table
Friday
Practice Session 1: 10.00 – 11.30 hrs
Practice Session 2: 14.00 – 15.30 hrs
Saturday
Practice Session 3: 11.00 – 12.00 hrs
Qualifying: 14.00 – 15.00 hrs
Sunday
Drivers Parade: 13.30 – 13.45 hrs
Race: 15.00 hrs