Grand Prix Preview (courtesy - The FIA)
The third event of the 2009 Formula One World Championship takes place in China. The Shanghai International Circuit, Shanghai, designed by Hermann Tilke, is one of the world's most impressive Formula One circuit facilities. Tilke took his inspiration for the layout of the track from the Chinese Shang character, which means above. Constructed on the site of ancient paddy fields the Shanghai International circuit has an overall length of 5,451km and features 7 left and 9 right hand turns.
The circuit was designed to maximise spectator viewing and to push the drivers to their limits. Its combination of narrowing turns and straight lines with rising and falling gradients will offer drivers opportunities to overtake which is certain to add to the excitement of the event. The circuit's challenging corners and long straights are sure to be both technically and physically demanding for drivers.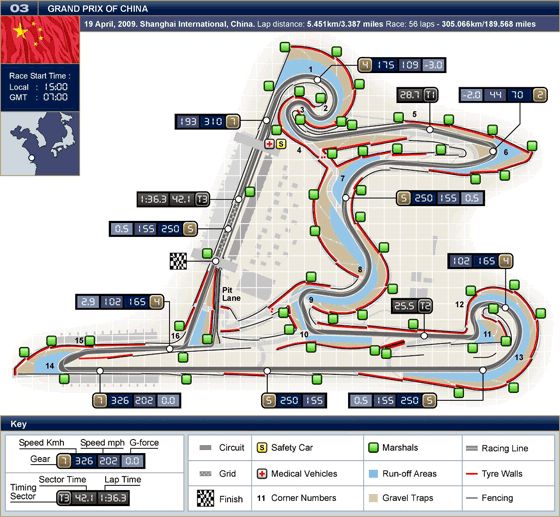 CHANGES TO THE CIRCUIT SINCE 2008
• The artificial grass on the exit of turn 10 has been renewed.
• The white lines around the edge of the track have been doubled in width.
• The pit entry has been widened immediately before the pit lane itself.
OTHER CHANGES AT THE SEPANG INTERNATIONAL CIRCUIT
• Two sections of the track have been nicknamed "snails" (Turns 1, 2, 3 with closing radius and turns 10, 11 and 12 with opening radius).
• The total FIA safety fencing used around the circuit comes to 9,350 metres.
• The total number of concrete piles used in construction is 40,000 totalling 800,000 metres.
Circuit data
Length of lap:5.451km
Offset:0.190km
Total number of race laps:56
Total race distance:305.066km
Speed limits in the pit lane: 60km/h during practice sessions; 100km/h during race
Formula One time table
Friday
Practice Session 1: 10.00 – 11.30 hrs
Practice Session 2: 14.00 – 15.30 hrs
Saturday
Practice Session 3: 11.00 – 12.00 hrs
Qualifying: 14.00 – 15.00 hrs
Sunday
Race: 15.00 hrs